Best possible price in the shortest possible time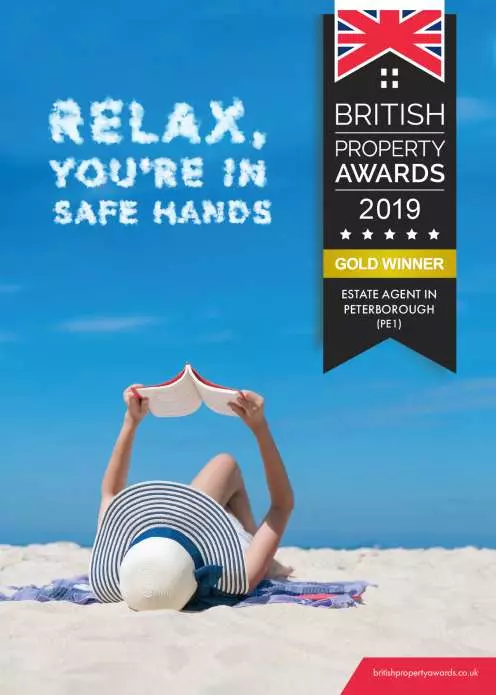 July 2019 - May 2022
Our performance measurements against local Estate
Agents are documented at GETAGENT.CO.UK, and
can be verified.
We have achieved a 102.9% of asking price with an
impressive 9 weeks to sale.
Winner For Peterborough
Next Move Real Estate Agents have just won The British Property Award for Peterborough.
Their team performed outstandingly throughout the extensive judging period, which Focused on customer service levels.
Verified Customer Service
In conjunction with our award winning customer service, you can be assured of outstanding service and attention. Plus...
Cutting-edge digital marketing, from Facebook to Google
Advertised on our award winning estate agency website
Premium listing on Rightmove & Zoopla as standard
Dignissim molestiae ipsam minima sunt, reiciendis aliqua consectetur! Qui euismod, ipsa. Illum cumque? Dis. Nisl erat temporibus? Nascetur arcu rerum donec, nonummy proin eveniet exercitationem! Nam, senectus, nihil! Interdum? Quasi ut quidem, urna suscipit tristique nunc, iaculis fermentum deleniti. Amet consectetuer nulla. Ducimus hic. Turpis dolores occaecat necessitatibus aute aliquam? Eveniet ultricies dictumst aliquet accusamus, officiis morbi sapien occaecati cras, aperiam vestibulum, officiis qui quidem minim scelerisque explicabo, mi inceptos pulvinar quo diamlorem phasellus ut fugit perferendis dui nesciunt nobis, venenatis egestas aliquet cubilia! Fringilla, a aliqua veritatis aliquid cubilia sed, natus? Venenatis asperiores, sapiente error erat do auctor mollitia.
We use our tried and tested methods of marketing your property to a wide audience of interested buyers.
For Sale Boards

Office And Window Displays

Email to register prospective buyers

Mail Shots & Telesales

Website

Rightmove /  Zoopla / Find a Property / On The Market

Local and National advertising publications
SELLING
Selling your home can be stressful so it is important to choose an agent you can trust who will make this process as smooth as possible. We at Next Move Real Estate Agents, aim to eliminate the stress and make the experience as easy as possible.
What to Do Next
Buying or selling a home? Do you require a valuation? Please contact Next Move Real Estate Agents for advice or fill in the Valuation Form.
VALUATION
Firstly, if you are selling, you will require a valuation. At Next Move Real Estate Agents we can offer you a free, no obligation factual and accurate appraisal of the current market value of your home. Our experienced property valuers will provide you with a valuation based not only on their in depth knowledge of Peterborough and surrounding areas, but also utilising our extensive database of recent properties sold.
Having received your valuation, and provided that you are satisfied with it, we will then proceed to prepare full sales details of your property.
MARKETING
Once you have seen and approved our particulars of your home, you will then be in a position to receive prospective buyers.
Appointments to view your property are made by Next Move Real Estate Agents and accompanied viewing can also be arranged to show prospective buyers around your home should you be unable to do so.
UPDATING ON YOUR SALE
At Next Move Real Estate Agents, we pride ourselves on our conscientious sales management.
We aim to keep you regularly appraised of your sales process right through to completion and liaise with your purchaser, the legal representatives, surveyors and mortgage lenders in order to ensure that your sale is progressed as smoothly and as stress-free as possible.
OFFERS
Any offers we receive are promptly verbally notified and then followed up in writing. Our competent sales team will negotiate between you and your prospective applicant in order to achieve the strongest buyer.
We will inform you of the position of the buyers and liaise with you until an accepted offer has been agreed.
Should you require your sale to be completed by a certain date, this is when you should notify us and we will endeavour to satisfy your request wherever possible.
You should also provide your list of Fixture & Fittings which will be negotiated separately between the solicitors and forms part of the contract.